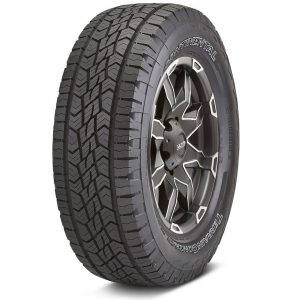 Continental Tire Manufacturing Company was formed in Hanover, Germany in 1871 to produce soft rubber products, rubberized fabrics, and solid tires for carriages and bicycles.
Continental has carved a niche for itself as an industry leader in technical tire development, with arrays of various passenger and light truck tires for original equipment and replacement markets.
For providing the needed consumer's satisfaction, better performance, and comfort demand in a tire, Continental has won many notable awards in engineering and technology innovation across Europe.
In this article, we will be talking about Continental A/T Tires, that is, TerrainContact all-terrain tires.
---
Continental AT
TerrainContact A/T Performance
TerrainContact A/T tire is Continental's on-and-off-road all-terrain tire developed for pickup trucks, Jeeps, SUVs, and crossover vehicles with good grip on gravel and grass.
For any size of TerrainContact A/T purchased, you will enjoy arrays of manufacturer's warranty, such as 6 years or 60,000 miles tread-life warranty and more.
TerrainContact A/T conquers dirt and maneuvers on mud surfaces while providing a quiet and comfortable ride on a paved highway.
The tire gives you civilized on-road behavior and off-road capability if you desire.
However, they are not great in extreme winter conditions.
If you desire excellent snow tires, you might as well go for dedicated winter tires.
You will equally enjoy a noiseless and comfortable ride with TerrainContactA/T's ComfortRide device while its X-Sipe nob improves off and on balancing with rain, ice, and snow condition, good handling, thereby enhancing your maximum stability on the road.
Technology
The TerrainContact A/T is a product of the company's 3-year investment in research and development to deliver ultimate comfort and a balanced performance package.
The ComfortRide Technology delivers a quiet and comfortable ride.
X-Sipe improves starting, stopping, and balanced handling in the rain, snow, and ice.
TractionPlus Technology offers off-road grip and durability.
EcoPlus Technology promotes fuel efficiency, long tread-life better fuel efficiency, and an excellent braking system.
Extra grooves fixed bite into the snow for powerful traction.
Warranty
TerrainContact A/T comes with 6 years or 60,000 miles tread-life warranty or half-mileage if the rear and front size differ.
You get a wearing uniformity warranty of a year or first 2/32".
You also get a 6 years workmanship and materials warranty or free replacement the first year, 2/32" or 25% of wear and prorated until the last 2/32 inch of the remaining depth.
And, you will get a Special warranty of 60-days from Continental, so if you are not satisfied with your purchase, you can return with 60 days of the purchase.
This also includes a 3-year flat changing warranty.
Tire Size
16''
LT 245/75R16120/116R E OWL, 265/70R16112T SL OWL, 265/75R16116T SL OWL
17''
LT 265/75R16123/120S E OWL, LT 285/75R16126/123S E OWL, 225/60R1799H SL BSW, LT 235/80R17120/117S E BSW, 245/65R17107T SL OWL, 245/70R17110T SL OWL, LT 245/70R17119/116S E OWL, LT 245/75R17121/118S E OWL, 255/65R17110S SL OWL, 255/65R17110S SL BSW, 255/75R17115S SL OWL, 265/70R17115S SL OWL, LT 265/70R17121/118S E OWL, LT 285/70R17121/118S E BSW, LT 315/70R17121/118S E BSW
18''
245/60R18105H SL BSW, 255/55R18109V XL BSW, 255/70R18113T SL OWL, 265/60R18110T SL BSW, 265/65R18114T SL BSW, 265/70R18116S SL OWL, LT 265/70R18124/121S E OWL, 275/65R18116T SL OWL, LT 275/65R18123/120S E OWL, LT 275/70R18125/122S E OWL
19''
255/55R19111V XL BSW, 265/50R20107T SL BSW, LT 265/60R20121/118S E BSW
20''
275/55R20113T SL BSW, 275/60R20115S SL BSW, LT 275/65R20126/123S E BSW, LT 285/60R20125/122S E BSW, 285/45R22114H XL BSW.
Pros
All-season performance with light off-road usefulness
Excellently durable and rugged
Low noise and vibration while driving
Resistance to puncture
Wears evenly
Excellent dry and wet traction
Great stability and decent handling
It is good on mud pits, rocky terrain, and soft deep sand
Its fuel efficiency is good even in demanding applications
Cons
Performance and reliability are rated below average in acute winter conditions.
Not branded with 3PMSF (Three-Peak Mountain Snowflake symbol).
A weak tread-belt is prone to frequent punctures for not-too-careful drivers, especially on stony and rough terrain.

Alfred's Take
This tire is designed to combine a quiet highway ride and long tread life (of about 50,000 km) with all-terrain performance, as well as all-year-round off-and on-road balanced traction in dry, wet surface and light snow.
---
Conclusion
Continental's TerrainContact A/T tire has fantastic manufacturer warranties for quality assurance, customer satisfaction, and safety.
It is an on-and-off-road all-terrain tire developed for pickup trucks, Jeeps, SUVs, and crossover vehicles with a durable grip on gravel and grass.
Your choice of TerrainContact A/T cannot be a bad one, considering the technology employed, its all-weather suitability, low noise, and comfort you will enjoy.
We hope you find our Continental AT tires review interesting towards making a buying decision.
If you have a review of this tire, question, or comment, kindly leave it in the box below.
We will be glad to hear from you.
---