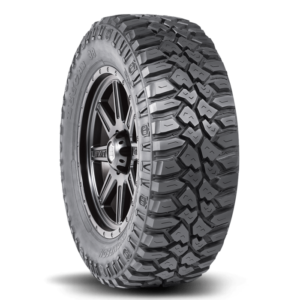 Mickey Thompson Company was founded in 1963 and has since championed the manufacturing of high-quality tires of many ranges and patterns.
They have designed and produced innovative tread patterns and compounds that have stood the test of time till now.
Such tires range from wide-low profiles street tires to rugged, aggressive-tread off-road types.
The company had remained one of the leading producers in the manufacturing of high-performing tires and wheels for both On – and Off-road driving.
The list of innovations from Mickey Thompson Performance and world-class quality has grown along with the company and is still on the top list of quality tire manufacturing companies to date.
In this article, we will be talking about the two Mickey Thompson tires – Baja ATZP3 and Deegan 38 all-terrain tire.
---
Baja ATZP3
MT Baja ATZP3 is an all-terrain tire manufactured with excellent traction best for your farm work trucks, heavy-duty automobiles, and better on other agricultural implements.
It has a fantastic off-road performance that is good and adaptable on mud pits, rock crawled, and coarse surfaces, but can also give you smooth and comfortable handling on highways.
The self-cleaning tread pattern attached to side biters gives you extra protection and longer tread wear.
You will enjoy the tire best on dry season and surface with average comfort on the wheels.
Baja ATZP3 has a 45,000 mile -treadwear warranty with an 'E'-rating maximum load capacity of 3,640 pounds at 80psi.
These tires are best for drivers that value long journey, rough terrain and heavy loads.
MT Baja ATZP3 wears evenly with a tread-life span of about 85,000km.
It could be a better option for your drive with lighter pressure and at a speed of not more than 80km/hour.
However, MT Baja ATZP3 could be noisy on paved highways making your drive not so comfortable and not recommended for use on snow and wet surface except with considerable speed as low as 60km/hr.
If you desire an excellent snow tire then you should choose a dedicated winter tire.
Technologies
Thompson Baja ATZ P3 has an 'E' rating load range with a maximum load capacity of 3,640 pounds while at 80 psi. However, do not ignore this if maximum performance and longevity are all you require.
Its tread is built with a silica-reinforced compound which prolongs the lifespan, making it resistant to cut or chip and enhancing its performance on a wet surface.
It has a power 3-Ply sidewall construction for sidewall protection and responsive handling.
It has deep aggressive shoulder Side-Biters and scalloped shoulder lugs to protect and enhance off-road traction.
Warranty
Baja ATZP3 comes with a 45,000-mile tread life warranty.
It is rated 'E' for a maximum load capacity of 3,640 pounds at 80psi.
Tire Sizes
15''
LT 31X10.50R15 109Q C BSW, LT 32X11.50R15 113Q C BSW, LT 33X12.50R15 108Q C BSW
16''
LT 225/75R16 115Q E BSW, LT 235/85R16 120Q E BSW, LT 245/70R16 118Q E BSW, LT 265/75R16 123Q E BSW, LT 285/75R16 126Q E BSW,  LT 305/70R16 124Q E BSW, LT 315/75R16 127Q E BSW
17''
LT 245/70R17 119/116Q E BSW, LT 265/70R17 121Q E BSW, LT 285/70R17 121Q E BSW, LT 295/70R17 121Q E BSW, LT 305/65R17 121Q E BSW, LT 315/70R17 121Q D BSW, LT 35X12.50R17 119Q D BSW, LT 37X12.50R17 124P D BSW
18''
LT 275/70R18 125Q E BSW, LT 305/60R18 121Q E BSW, LT 305/70R18 126Q E BSW, LT 35X12.50R18 118Q D BSW
20''
LT 275/65R20 126Q E BSW,  LT 285/55R20 122Q E BSW, LT 305/55R20 121Q E BSW, LT 35X12.50R20 121Q E BSW, LT 37X12.50R20 126P E BSW
22''
LT 325/50R22 122Q E BSW, LT 37X13.50R22 123Q E BSW.
Pros
Excellent traction on the highway
Great and comfortable on- and off-road handling
Suitable for dry surface and season
Good on mud pits and rocky terrains
Tread life of about 85,000km
Warranty up to 45,000 miles
Cons
Not good on snow.
Noisy on paved highways
Not too good for crossover and racing cars

Alfred's Take
What you will get with Mickey Thompson's Baja ATZP3 tire is the grip you need and the smooth ride once you get down the road.
We suggest that this is a perfect tire due to the fact that it has deep, aggressive side biters which provide you with improved protection, as well as multi-draft grooves designed for self-cleaning and improved wear.
---
Deegan 38 A/T tire
This is another brand of Mickey Thompsons' range manufactured for all-terrain users.
You can use Deegan 38 all-terrain tires for SUVs and vans depending on the sizes recommended.
It comes with a tread life warranty of 60,000 miles for P-Metric (that is SUV) and  Metric sizes or 55,000 miles for pick-ups.
Its tread is built with a silica-reinforced compound which enhances better performance, prolongs the lifespan, and makes it resistant to cut or chip.
The tire is good for all kinds of weather, readily available and easily accessible as well as affordable.
Its low noise and good traction in mud and the rough surface give you maximum comfort on wheels with good traction in mud and rough surfaces.
You will also find it suitable for all-terrain as it rides smoother and lasts longer.
Technologies
Fixed with a high-tensile 2-ply-body cord designed to reduce weight and improve the smooth ride.
Patterned with angled shoulder blocks that prevent stone retention and enhances off-road traction.
Manufactured with a silica-reinforced tread compound and sipping for all-year-round usage and quality performance.
Built with angled shoulder scallops and two-pitch SideBiter® pattern provided to increase off-road traction.
Fixed with tread element tie-bars to improve stability and responsiveness.
Warranty
The Deegan 38 A/T has a Mickey Thompson's 60,000 mile-life warranty for P-Metric (on SUV) and 55,000 miles for LT sizes.
Tire Sizes
15"
235/75R15 109T XL RWL, LT 31X10.50R15 109R C RWL, LT 225/75R16115R E BSW, 235/70R16 106T SL RWL, LT 245/70R16118R E RWL, LT 245/75R16 120R E RWL
16"
255/70R16 111T SL RWL,  265/70R16112T SL RWL, LT 265/70R16 121R E RWL, 265/75R16 116T SL RWL, LT 265/75R16 123R E RWL, LT 285/75R16 126R E RWL
17"
LT 265/65R17 120R E RWL, 265/70R17 115T SL RWL, LT 265/70R17 121S E RWL, 275/65R17 115T SL RWL, LT 275/70R17 121R E RWL, LT 285/65R17 121S E RWL, LT 285/70R17 121S E RWL, 265/60R18 110T SL RWL
18"
265/65R18 114T SL RWL, 275/65R18 116T SL RWL, LT 275/70R18 125S E RWL, LT 285/65R18 125S E RWL,LT 295/70R18 129S E BSW, 265/50R20 111T XL RWL
20"
275/55R20 117T XL RWL, 275/60R20 115T SL RWL, LT 285/55R20 122R E BSW, LT 295/60R20 126S E BSW, LT 35X12.50R20121R E BSW, 285/45R22114T XL BSW
22"
305/45R22 118T XL BSW
Pros
Affordable
Deegan 38 A/T is good for all-weather
Suitable for all-terrain
Rides smoother and last longer
Readily available and accessible
Low noise to give you maximum comfort on wheels
Good traction in mud and rough surface
Cons
Tire weight could slow down the vehicle's speed.

Alfred's Take
The satisfied users of this tire model claim that there are no extra fees once you install them and that tires feel good and drive smooth.
These are reasons well enough to make a final decision and buy Mickey Thompson's Deegan 38 A/T tire for your vehicle.
---
Conclusion
Baja ATZP3 and Deegan 38 A/T brands of Mickey Thompson are two of the best kinds that will give you a good quality life span, enhance your comfortable ride on the wheels and suit your desired usage at all times.
Your choice of either will entirely depend on your need and what you look out for in their usage.
It is our hope that you will find our review of the two Mickey Thompson AT Tires helpful in arriving at your ultimate choice.
If you have a review of this tire, comment, or questions, kindly leave it in the comment box below.
We will be glad to hear from you.
---