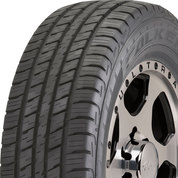 The Falken Wildpeak HT is an all-season tire that delivers nothing short of excellence when on a dry and wet surface with all-season traction.
You can enjoy good handling and great traction on the highway with this tire when driving in your SUV, crossover, or light truck.
Asides from its exception highway traction, this tire is affordable and available in a wide range of sizes.
The tread used in designing the tire is non-directional, therefore you probably get longer tread wear and hence longer tread life.
We will be getting to know this tire more in this Falken Wildpeak HT review, from its technology and features to performance and its array of sizes.
---
Falken Wildpeak HT
Features
M+S rated tire which improves snow and wet surface performance.
Free 2-year road hazard protection. Terms and conditions apply.
30 days customer satisfaction trial.
60,000-mile tread life warranty.
Symmetric non-directional five-rib tread design.
White sidewall letters are available.
50 inches to 20 inches of size available
Technology
Designed with a non-directional symmetric tread with a five-rib pattern that helps reducing irregular tread wear and thereby the tire gets to have a longer tread life.
Equipped with four large straight grooves which help channels water away when driving on a wet surface, thus helping to avoid hydroplaning all through the load range.
The presence of Falken's variable pitch shoulder design reduces tire noise and roar on all road surfaces, especially when driving at high speed.
Wildpeak HT tire symmetrical non-directional 5-rib tread pattern gives the tire excellent traction and handling on a dry driving surface.
Continuous solid center rib for enhanced stability and better braking performance on the wet and dry driving surface.
Its multi-wave lateral sipes on the tread give better wet and snow traction when driving.
Designed with an all-season M+S rated tread compound.
Features high-tension casing ply and two wider steel belts inside its tread for added strength and durability.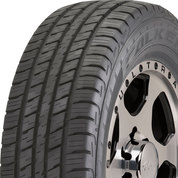 Warranty
Falken provides 30-day customer satisfaction, so you can give it a try and get an exchange if it does not work for you.
Falken gives a 60,000-mile tread life warranty on the Wildpeak H/T and the first 2/32 inch of wear guarantee on tire uniformity.
The tire comes with a free 2-year road hazard protection.
Terms and conditions apply.
Materials and workmanship are available for 5 years and free replacement during the first 2/32 inch of wear is included.
The amount is then prorated for the remaining time period down to the final 2/32 inch of tread depth.
Performance
The Falken Wildpeak HT tires are great on dry and wet driving surfaces.
Having equipped this tire for this, you will not find it delivering any less.
The traction is great, the wet grip is no less and you are safe from any hydroplaning danger.
Its highway performance is great as you get solid traction, stability with smooth drive.
The road noise is minimal at the high-speed drive and unbelievably quiet on average speed, so you get a comfortable drive without worrying about drowning the noise with your truck radio volume.
You will be surprised at the level the tire wears as well; you might not get a difference compared to the way other high-class tires wear.
Thanks to its less road noise and stability, you will find this tire super comfortable when driving.
Speaking of snow traction, they give an excellent performance on light snow and you will not have to worry about some reasonable amount of snow.
However, when you are thinking of driving in extreme winter conditions, heavy snow, when it is freezing, or on the ice, this tire is not for you.
During this extremity, you might consider an exceptional all-terrain tire for your truck and SUVs or winter tires which is basically designed for this season.
Tire Size
Size 15''
225/75R15 102T SL OWL, 235/75R15 109T XL OWL, LT 235/75R15 104/101S C OWL, LT 30X9 50R15 104S C OWL, LT 31X10 50R15 109S C OWL
Size 16''
215/70R16 100T SL BSW, 225/70R16 103T SL BSW, 225/75R16 108T XL BSW, LT 225/75R16 115/112S E OWL, 235/70R16 106T SL BSW, 235/75R16 112T XL BSW, LT 235/85R16 120/116S E OWL, 245/70R16 107T SL BSW, 245/75R16 111S SL BSW, LT 245/75R16 108/104S C BSW, LT 245/75R16 120/116S E OWL, 255/70R16 111T SL BSW, 265/70R16 112T SL BSW, 265/75R16 116T SL BSW, LT 265/75R16 123/120S E BSW, LT 285/75R16 126/123S E BSW,
Size17''
215/65R17 99S SL BSW, 225/65R17 102H SL BSW, 235/60R17 102H SL BSW, 235/65R17 104H SL BSW, P 235/70R17 108T XL OWL, 245/65R17 107T SL BSW, 245/70R17 110T SL BSW, 265/65R17 112T SL BSW, 265/70R17 115T SL BSW, LT 265/70R17 121S E OWL,
Size 18''
235/60R18 107H XL BSW, 235/65R18 106H SL BSW, 245/60R18 105H SL BSW, 255/65R18 111H SL BSW, 255/70R18 113H SL BSW, 265/60R18 110H SL BSW, 265/65R18 114H SL BSW, 265/70R18 116T SL BSW, 275/65R18 116H SL BSW, LT 275/65R18 123/120S E BSW,
Size 19''
255/60R19 109H SL BSW,
Size 20''
275/55R20 117H XL BSW, 275/60R20 115H SL BSW, LT 275/65R20 126/123S E BSW
Pros
Good handling on the dry and wet driving surface
Affordable
Good all-season traction on a dry and wet surface
Good traction on light snow
Tread life
Less noise
Good braking
Cons
Not for extreme winter performance

Alfred's Take
This tire is for drivers of crossover, SUV, and light trucks that want all-season traction with great highway performance, less noise, comfort, and stability while driving.
The Wildpeak HT is an all-season built tire that gives all-season traction and year-round grip, with great performance and comfort on most driving surfaces.
---
Recommendation
This is all-season traction that is non-directional and well-built to deliver quality driving.
Although not pricey, it does not mean you get less performance when been compared to its counterpart.
With our experience when compiling this Falken Wildpeak HT reviews, we can say that this is a good choice to buy to complement your truck and SUVs, as long as all-season traction and good highway performance are what you seek.
You can also order this tire with outlined white sidewall letters if it suits you.
If you have a question or comment or review, leave them in the comment below.
We will be glad to hear from you.
---