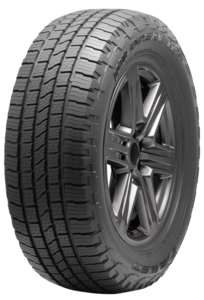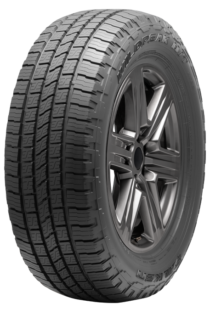 Widpeak H/T02 is Falken's highway terrain tire designed for pickup truck drivers with the purpose of meeting their daily heavy-duty needs. Engineered for delivering great performance when towing, hauling heavy load or when in use on construction site. With its rugged upper sidewall you won't have worry as it exceeds the performance of the average pickup tire.
The WILDPEAK H/T02 comes with 70,000-mile tread life Warranty for non LT sizes and 50,000 mile tread life warranty for LT Sizes with availability in 38 sizes ranging from 15- to 22-inch rim diameters. Let's get to know more about this capable pickup truck tire in this FALKEN WILDPEAK H/T02 review.
Designed For What Driver
The Wildpeak H/T02 is engineered specifically for pick-up truck drivers that demands some heavy work from their truck. Built with rigid tread blocks and rugged upper sidewall for it to deliver durability with exceptional performance.
Popular Vehicle Fitment
Chevrolet Colorado, Ford F-Series, Gmc Sierra, Nissan Frontier, Chevrolet Silverado, Nissan Titan Xd, Ram Trucks, Toyota Tacoma, Nissan Titan, Toyota Tundra
Warranty
Falken equipped the wildpeak H/T02 with 70,000 mile tread life warranty for non LT sizes and 50,000 mile tread life warranty for LT sizes. Available in load E range with road hazard protection, offering free replacement for any damage that occurs during the first two years, or within the first 3/32 inch of tread life.
And 30 day ride guarantee, so consumers can get to test the tire and return if they are not pleased with the performance within 30 days.
Technology
3D Canyon sipe technology interlocks the shoulder to support high torque applications by resisting wear from high torque and increasing edges for enhanced all season handling.
Rigid tread blocks support heavy-duty towing capability with its support bridge that provides tread pattern rigidity in the contact patch for better vehicle stability and handling when hauling or towing.
Four circumferential grooves for evacuating water when on wet surface or in the rain and thereby reducing risk of hydroplaning while enhancing wet braking performance.
Aggressive Upper sidewall for protecting the shoulder of the tire from road hazard on highway or construction sites.
Optimized tread pattern with three variable pitches for exceptionally quiet ride.
About the new Wildpeak H/T02
This tire is built to deliver industry leading highway terrain performance and durability round the year. With its rugged upper sidewall it gives its driver confidence when hauling and towing heavy load or in use for heavy duties.
You can't compare this tire with an average pick-up tire when it comes to its heavy-duty capabilities and applications, as stated earlier it can be used for construction purposes.
As stated by Drew Howlett, Product Manager, LT/SUV/CUV Tires, "We didn't want to develop another typical Highway Terrain tire, we wanted to build a tire that could support the most powerful and capable trucks on the road today. That's why all LT sizes of the H/T02 were rigorously tested and developed using the latest ¾-ton diesel pickups. We pushed our Heavy Duty tire construction to the limits, so as a testament to the H/T02's toughness and durability, all LT-size offerings feature an 'HD' badge on the tire's sidewall."
Stated by Falken this tire has 4D Nano Design and 3D Canyon Sipe Technology. Falken Wildpeak H/T02 is an improved version of the HT01 with 27 percent improved tread life, 20 percent better durability especially in the LT sizes, 19 percent better snow traction, 12 percent better wet performance and 5 percent improvement in its dry handling.
Features great handling on dry surface, excellent wet braking even when hauling heavy load. The tread life warranty is good too with its 30-day trial allowing consumers to give it a try.
Ride comfort is applicable as well as quiet ride, although we do not know if it will remain the same when it starts to wear. Despite being a highway terrain tire, it can still be used off-road when necessary.
Tire sizes
Currently Available
235/75R15 XL 109T, 235/70R16 XL 109T, 245/75R16 SL 111T, 255/70R16 SL 111T, 265/70R16 SL 112T, 265/75R16 XL 116T, 245/65R17 SL 107T, 265/70R17 SL 115H, LT265/70R17 E 121/118S, 255/70R18 SL 113H, 265/60R18 SL 110H, 265/65R18 SL 114H, 275/65R18 SL 116H, 275/60R20 SL 115H, LT275/65R20 E 126/123S, 285/45R22 XL 114H
Soon to be added
225/75R16 XL 108T, 235/75R16 XL 112T, 245/70R16 SL 107T, LT215/85R16 E 115/112R, LT225/75R16 E 115/112S, LT235/85R16 E 120/116S, LT245/75R16 E 120/116S, LT265/75R16 E 123/120S, LT285/75R16 E 126/123S, 245/70R17 SL 110T, 255/65R17 SL 110T, 255/70R17 SL 112T, 265/65R17 SL 112T, LT235/80R17 E 120/117R, LT245/70R17 E 119/116R, LT245/75R17 E 121/118S, 265/70R18 SL 116T, LT265/70R18 E 124/121S, LT275/65R18 E 123/120S, LT275/70R18 E 125/122S, 275/55R20 XL 117H, LT265/60R20 E 121/118S
Conclusion
We hope you find our Falken Wildpeak H/T02 review helpful, you can take advantage of the 30-day trial guarantee. And we recommend this tire if you use your pickup truck for heavy-duty purposes. If you have a comment, question or review, leave it in the box below, we will be glad to hear from you.