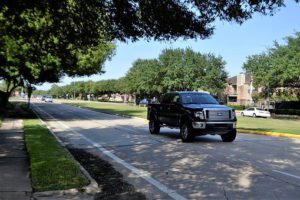 Earlier this year, Bridgestone announced the launch of five new tires – the Bridgestone Turanza Quiettrack Touring tire, Bridgestone Blizzak WS90 snow/winter tire, Firestone WeatherGrip all-weather touring tire, Firestone Destination A/T2 all-terrain tire, and Firestone Destination X/T all-terrain tire.
The Firestone A/T2 is an all-terrain tire engineered to deliver off-road capabilities and durability with on-road and highway capabilities.
It is designed for drivers of pickup trucks, SUVs, and all-terrain vehicles that desire the best tire in the most challenging terrain.
In this Firestone Destination A/T2 review, you will get to know more about the new addition to the company.
---
Firestone Destination A/T2
Warranty
The Destination A/T2 comes with Firestone's 5 Years or 55,000 miles tread life warranty.
Also, it has a uniformity warranty for the first 2/32-inch of wear and workmanship with a materials warranty of 5 years with free replacement for the first 3 years, then prorated until the last 2/32-inch depth remaining.
The Firestone Destination A/T2 tire also comes with Firestone's 90-day buy and try guarantee.
If you are not satisfied with the performance of the A/T2, then you can return it within 90 days for exchange or refund.
About The New Firestone Destination A/T2
Firestone Tire and Rubber Company is an American tire company founded by Harvey Firestone in the year 1900, but at the time it was into supplying solid rubber side-wire tires for fire apparatus.
Only later did it start designing tires for automobiles and tires' mass production.
Firestone is active in the replacement market and used to be the original equipment that comes with Ford automobiles as they are suppliers for Ford Motor Company.
However, in 1988 Firestone tire and rubber company was sold to Bridgestone.
The two new all-terrain additions – the Destination A/T2 and Destination X/T combined will be replacing the present Destination A/T.
The present A/T has delivered nothing short of great all-terrain performance when paired with light trucks and utility vehicles, but its abilities are now divided into these two new additions.
The new Destination A/T2 is designed for light pickup, SUVs, and all-terrain vehicles while the Destination X/T is designed for heavier trucks and extreme off-road applications.
The new Destination A/T2 features a new tread compound that aids exceptional traction on rough driving roads and dirt with its full-depth tread grooves providing good performance on wet or snow-covered surfaces.
They are designed for P metric tire sizes and are available in 29 sizes from 15-inch to 22-inch sizes.
The tire is branded with the three-peak mountain snowflake symbol which means it is tested and delivered a good performance on the snow surface.
As Stated By Bridgestone Tire Operations
"Drivers of pickup and light trucks, SUVs and all-terrain vehicles have high expectations for their tires they want a versatile product with uncompromising quality," said Erik Seidel, president, consumer replacement tire sales, U.S and Canada, Bridgestone Americas Tire Operations.
"We designed the Firestone Destination A/T2 and Firestone Destination X/T tires to offer the best of both worlds.
These tires are tough enough to tackle the most challenging terrain while still providing a comfortable, quiet ride for frequent highway trips."
"The A/T2 is really about a balanced approach," said Bridgestone Tire Education Specialist Jason Blackwell.
"At the end of the day, this is an all-terrain tire with that good off-road handling, but at the same time, we understand a lot of these customers are those 'work hard, play hard' [types], where Monday through Friday you usually live on the road, and maybe by the weekend you take it off-road.
This tire is really designed to offer that balanced approach so you can take it on-road and off-road."
Technology
The A/T2 features an all-new compound and aggressive tread design with the stone rejector technology that aids better performance on gravel, dirt, and rough roads while reducing damage from stone drilling.
Its full depth interlocking 3D sipe technology aids even wear through the tire tread life.
Its tread compound is molded into a symmetric pattern which helps to blend off-road capability with on-road drive comfort.
Features aggressive shoulder tread pattern for enhanced off-road handling.
Its high void pattern has a solid center rib that improves its road contact when driving.
The see-through void in the tread helps to improve stopping distance, handling on wet surfaces, and reduce the risk of hydroplaning by evacuating water from its path.
Firestone's HydroGrip technology improves performance on wet surfaces.
The heavily siped features with the notches in the independent tread blocks and center rib aid better traction on snowy and icy surfaces.
Its internal construction features a robust two-ply polyester casing for durability and better ride quality.
Two wide steel belts reinforced with a single nylon cap ply for better performance.
Tire Sizes
The A/T2 is available in 29 sizes, covering 79% of Jeeps, SUVs, and trucks.
Top fitments include the Ford F150, Chevy Silverado, Dodge Ram 1500, and Ford Explorer.
15''
P235/75R15 105S
16''
P225/75R16 104S, P235/70R16 104S, P235/75R16 106S, P245/70R16 106S, P245/75R16 109S, P255/70R16 109S, P265/70R16 111T P265/75R16 114T
17''
P235/65R17 103S, P235/70R17 108S, P235/75R17 108S, P245/65R17 105T, P245/70R17 108S, P255/65R17 108S, P255/70R17 110S, P255/75R17 113S, P265/65R17 110S, P265/70R17 113S, P285/70R17 117T
18''
P245/60R18 104T, P255/70R18 112S, P265/60R18 109T, P265/65R18 112S, P265/70R18 114S, P275/65R18 114T
20''
P275/55R20 111S, P275/60R20 114S
22''
P285/45R22 114H
Pros
Stone rejector technology
Full-depth interlocking 3D sipe technology
Firestone's HydroGrip technology
Long-lasting

Alfred's Take
The A/T2 is engineered to deliver the best performance on the most challenging terrain with great performance in off-road driving conditions, without sacrificing its highway comfort and dependability.
This tire comes with a 55,000-mile tread life warranty and Firestone's 90 days buy and try guarantee.
---
Conclusion
If an all-terrain tire that delivers the best performance on the highway, the toughest off-road conditions, wet surface, and even on light snow is what you seek then this tire is a good choice to pick.
You can take advantage of their 90-day customer buy and try guarantee as you will be fully refunded within 90 days if it does not suit your driving condition.
We hope you find our Firestone Destination A/T2 review helpful.
If you have a comment, question, or review about this tire, you can drop it in the box below.
We will be glad to hear from you.
---