No matter how lovely, stylish, and great your vehicle is on road, remember what keeps it in contact with its purpose are tires.
Tires contribute a lot to its performance and delivery.
For example – it is present in the fuel mileage, handling, steering, braking, cornering, and most especially your safety.
And for this reason, there are lots of ongoing research and development to make tires serve you better.
At Bridgestone Firestone, the engineers are no different, as they keep searching for ways to improve the abilities and performance of tires for their consumers.
Since 2013, this manufacturer has been working on the development of five products for you and they launched them this year.
Among these products is Firestone WeatherGrip that we will be getting into in this Firestone WeatherGrip review, the Bridgestone Turanza QuietTrack, the Blizzak WS90 that we have reviewed, the Destination A/T2, and Destination X/T.
These five products have been created with some new designs and even some new technologies exclusive to this manufacturer that shows lots of improvement in these tires when comparing them to their predecessor and counterparts.
---
Firestone WeatherGrip
The Firestone WeatherGrip
The WeatherGrip is the company's first all-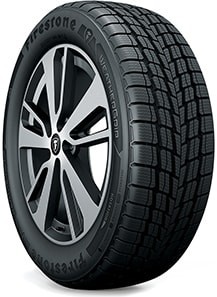 weather touring tire designed for cars, minivans, and CUVs.
It is engineered to get you through all-weather with a great performance delivery.
You get to rock it all year round without the worry of swapping tires and you can have so much confidence in its performance being that it boasts the added traction and control on wet and snowy conditions.
It has much more to offer than an all-season tire.
The tire comes with a 65,000-mile limited warranty which means it has come to deliver lasting performance and it is available in 33 sizes to fit more than 60% of sedans, minivans, and CUVs on the road today, as stated by Bridgestone.
The tire is proven to give a good snow performance as it is certified and branded with the industry three-Peak Mountain Snowflake rating (3PMSF).
Warranty
This tire is equipped by Firestone with Firestone 90-Day buy and try guarantee for its consumers.
So, if you are not satisfied with your purchase, you can return and exchange this tire within 90-days.
Also, you get 65,000 miles warranty from Firestone.
Technology
HydroGrip: The WeatherGrip includes full-depth grooves and an open shoulder slot that enhances water evacuation on the wet surface, as well as a rounded footprint that helps reduce the risk of hydroplaning.
TractionTech Package: Its 3D interlocking sipes create more edges for better performance on snow and wet surface and its full-depth tread design help to deliver long tread life and better wear.

For What Driver
As stated earlier, the WeatherGrip is designed for drivers of sedans, minivans, and CUVs who want to be in control and do not want to have to worry about swapping tires in multiple seasons.
So, there is no need to worry about changing from all season to dedicated winter tires or switching tires all 3 seasons.
But Can It Really Be Used In All Weather?
This tire is great all year round and in almost all driving conditions.
However, for drivers who live where there can be frequent extreme snow and icy conditions, extreme snowstorm, and serious frequent winter conditions then a dedicated winter tire will still be the best choice to pick.
For example, people who live in Snowbelt areas like London, Southern Ontario, etc. should keep to dedicated winter tires.
But for drivers with infrequent heavy snow, not too much ice, or just light snow conditions then the Firestone WeatherGrip will be a good choice to pick without worrying about any other season all year round.
As Stated By The Manufacturers:
"Drivers today are looking for durable, dependable tires that work hard and keep them in control in every driving season," said Erik Seidel, president, consumer replacement tire sales, U.S. and Canada, Bridgestone Americas Tire Operations. "This is why we built the Firestone WeatherGrip tire to provide enhanced grip in wet and winter conditions, so drivers can confidently take on any forecast."
As stated by Saul the Firestone WeatherGrip is the company's answer to their customers' needs.
"It's got Three-Peak Mountain Snowflake certified winter performance, which by and large is going to be better than an all-season tire in the snow, but it's not a dedicated winter tire because it's got to be a four-season product," Saul said. "In other words, you're going to put this on your vehicle and leave it on year-round. Most people who buy winter tires switch back and forth each season because they need winter tire traction in ice, slush and snow all winter long."
For those living in countries where it is compulsory to have winter tires on, you have your answer, especially those places where the snow rating is compulsory as this tire is certified and branded with the three-peak mountain snowflake. "Customers asked the question 'why can't I get that winter performance and keep that tire on year-round without having to put winter tires on?'" Crews said.
Pros
Great performance all year round
All-weather performance
65,000-mile limited warranty
3 Peak Mountain Snowflake certified
Quiet drive

Alfred's Take
Now speaking of the Firestone weather grip, this is an all-weather tire.
You can call it something more than an all-season, but it is not a winter-dedicated tire.
This tire is built for consumers that hate to have tires swap in some season, like winter season and we can agree that it can get stressful swapping.
For those of us that live in cities with not too much snow or not too extreme winter then, this tire is what we have been waiting for.
---
Conclusion
This tire is new and there are not many reviews on it yet, however it was tested against another tire and it really proved to deliver good performance with quality.
It also possesses good stopping distance power.
You can take advantage of the 90-day try and buy guarantee and when you do, remember to leave us a review down below.
We hope you find this helpful in learning about the new Firestone WeatherGrip.
If you have a comment or question, leave it in the box below, and we will be glad to hear from you.
---