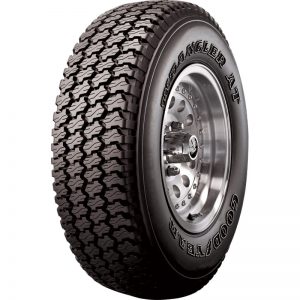 Another addition to the all-terrain tires from Goodyear is the Wrangler UltraTerrain AT which is built to deliver all-terrain traction, durability, and comfortable on-road feel for trailers, light trucks, crossover cars, SUVs, and Jeeps.
It is designed for drivers who want aggressive all-terrain performance, as well as a comfortable drive.
The tire has rugged strength, all-terrain traction, and an economical tread design for pickup trucks.
Read on so you get to learn more about this Goodyear tire in our Goodyear Wrangler UltraTerrain AT review.
---
Goodyear Wrangler UltraTerrain AT
The tire promotes exceptional all-weather traction with assured gripping ability on dry, wet, and winter surfaces.
It is enhanced by the tread design and all-season compound, maintaining an excellent grip on all road surfaces.
Performance
The UltraTerrain AT is an all-weather perfect traction tire with large tread blocks that provide a stable footprint and comfortable handling.
The tire comes in various sizes to fit a wide range of vehicles, including Chevrolet Silverado, Ford F-series, Ford Expedition, Dodge RAM, Jeep Rubicon, Ram Trucks, and Toyota Tacoma, Toyota FJ Cruiser, Toyota 4Runner, GMC series, and Jeep Wrangler.
The Wrangler Ultra Terrain AT promotes exceptional handling.
It is built with extra polyester that keeps the tire close to the road surface during on-road driving and helps to decrease the road vibration levels felt in the vehicle's cabin, thereby ensuring a comfortable driving experience.
The rugged compound used in building UltraTerrain AT helps it keep a good level of traction at all times while the tread elements increase the road contact.
This upgrades the steering responsiveness and the driving stability for easy vehicle control in all weather.
Technology
The Wrangler UltraTerrain AT tread design helps provide good traction in a variety of conditions.
Its large tread blocks support a stable footprint and confident handling.
The UltraTerrain AT also features wrap-around shoulder elements that aid better grip on soft surfaces and help resist punctures.
The tread features independent staggered tread blocks on the tire's shoulders and a center area with open shoulders and deep grooves.
The compound used in building this tire helps it in sustaining its flexibility throughout the year.
The tire's internal structure carries reinforced twin high-tensile steel belts and a polyester cord body that work together to improve the all-terrain durability and promote a comfortable drive.
Its stronger steel belts enhance the casing's construction which prevents deformation to the tire's optimal shape, thereby keeping the tire's shape constant and improving its performing ability on all-terrain surfaces.
Its wide tread grooves manage to disperse water and slush, thereby effectively resisting hydroplaning.
The staggered tread design increases the snow-eliminating ability to keep the tire's footprint clean and ensures it performs to its best ability and with ease year-round.
Pros
Good handling
Great traction
Good on snow and wintry condition
Comfortable ride
All-weather traction
All-terrain traction
Enhanced controllability
Better off-road durability
Cons
Limited warranty not available

Alfred's Take
The enhanced wide grooves and the treads' self-cleaning keep the tire's footprint clean by evacuating mud and ejecting rocks stuck between the tread elements ensuring a safer all-terrain performance.
It features an aggressive tread pattern and attractive groove technology with an off-road tread compound for a firm grip on all terrain while delivering rugged road performance.
---
Conclusion
The tire is suitable for Toyota Tundra, the 4Runner, FJ Cruiser, and other types of cars and SUVs.
You can be sure of a comfortable, smooth, and peaceful ride with the Wrangler UltraTerrain AT tire.
The polyester keeps the tire close to the road surface during on-road driving, thus reducing vibration levels in the vehicle's cabin and ensuring a low-noise driving experience.
The tire is durable and it ensures excellent handling in all-season and all-weather conditions.
In summary, the Ultra Terrain AT tire comes with improved technology and varieties of technical enhancements to deliver a comfortable and safer driving experience at an affordable cost.
We hope our Goodyear Wrangler UltraTerrain AT review will go a long way in guiding your choice of the tire to buy when you desire to do so.
If you have any comments, questions, or reviews of this tire, kindly leave them in the box below, and we will be glad to hear from you.
---