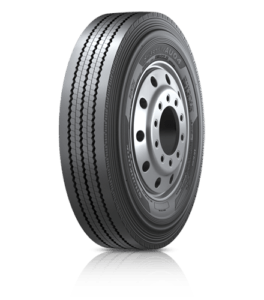 In its quest to continue the expansion of its Truck and Bus Radial (TBR) tires offering quality support to the needs of today's commercial and professional drivers, Hankook Tire America Corporation recently launched the new Smart City AU04 tire developed for high mileage start and stop applications for city buses and light trucks.
---
Hankook Smart City AU04 Tire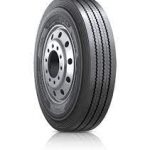 The Smart City AU04 is designed for durability and even wear with a core structure and compound that is more heat-resistant.
The tire is an all-position radial designed to be utilized in urban city bus applications for medium trucks, commercial trucks, and passenger buses.
The new Hankook Smart City AU04 confirms not only Hankook's continued investment in innovation, production of quality products, customer satisfaction, and commercial growth.
They resolved the desire to provide customers with new state-of-the-art products to enhance driving capabilities, comfort, and value for their money.
The new AU04 is available now in sizes 305/70R22.5, 275/80R22.5, and 295/80R22.5.
It, however, does not come with the manufacturer's tread life warranty.
Performance
The all-position SmartCity AU04 was engineered through Hankook tire's Smartec technology, which, Hankook says, utilizes the latest research and development methodologies to enhance product performance in key areas such as wet, dry conditions, durability, and safety.
The SmartCity AU04 is designed for durability, longevity, and even wear aiming at accommodating the dynamic needs of commercial city transporters where buses constantly start and stop to pick and drop passengers under variable road conditions.
It comes with improved technologies that enhance excellent traction and braking for improved mileage performance and reduced tire wear.
Technology
The SmartCity AU04 comes with a tread arrangement that has been optimized to improve both safety and fuel efficiency.
It is enhanced with a multi-purpose performance tread design that was incorporated to combine two different zigzag groove patterns which significantly improve wet traction and braking.
The SmartCity AU04 features an optimized rib spacing arrangement between tread sections in order to provide better fuel efficiency.
Outside of the tread sections, the tire features an expanded sidewall protector that gives protection from side impacts.
The tire utilizes 3-dimensional sipping technology to increase tread block stiffness while also allowing excellent handling and traction performance. This feature also helps prevent heel and toe wear, chip-cuts, and irregular wear which are necessary features in an environment that requires stop-and-go driving habits.
The SmartCity AU04 is built with 3-dimensional kerfs, inner block, three-dimensional waves in X, Y, and Z directions which improves traction, handling, and mileage performance by increased block stiffness.
Its belt is structured to minimized motion for lower heat generation.
It comes with Carcass structured to minimize tire deformation.
The optimized footprint offers control on uneven surfaces.
The SmartCity AU04 is built with an improved bead to enhance minimum bead mobility for maximum re-treadability.
Company Profile
Hankook Tire America Corporation with its headquarter in Nashville, is one of the growing leaders in the U.S. tire market, leveraging investments in technology, manufacturing, and marketing to deliver high-quality and reliable products that are safer for consumers and the environment.
Tire Sizes
22"
305/70R22.5 TL
275/80R22.5 TL
295/80R22.5 TL
Pros
Fuel Efficiency
Wet Grip
Good traction
Low noise level
Good wet and dry braking
Even wear
Great handling
Cons
Does not come with a tread life warranty

Alfred's Take
Hankook America markets and distributes a complete line of high-performance and ultra-high-performance passenger tires, light truck and SUV tires, as well as medium truck and bus tires in the United States.
It recently launched the SmartCity AU04 for trucks and city buses into the tire market.
The tire-built supports great handling, good traction, minimized road-noise, fuel economy, and great life span at an affordable price.
---
Conclusion
Hankook Tire company has built a reputable passion for customer satisfaction over the years.
This is confirmed by the newly introduced Smart City AU04 that comes with improved technology to ensure that customers enjoy value for their money while driving with confidence, comfort, and lesser worry about road hazards and noise.
The Hankook Smart City AU04 tire is designed for durability.
It aimed at avoiding irregular tire wear while accommodating the start, brake, and go dynamics associated with the urban commercial transportation systems.
We hope you find our review suitable for your desired information.
If you have a comment, question, or review of this tire, drop it in the comment box below, and we will be glad to hear from you.
---