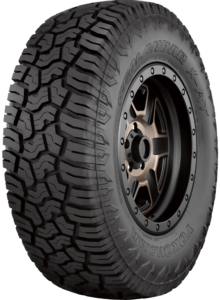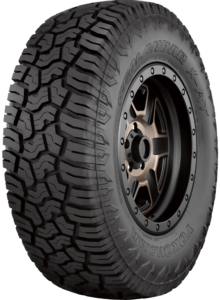 The Geolandar X-AT is an all-terrain tire designed by Yokohama for full-size SUVs, jeeps, and pickup trucks.
The X-AT gives an aggressive off-road performance as well as comfortable on-road performance.
It is available in 27 sizes ranging from 15 to 20-inch wheel diameter.
In essence, this tire gives the all-terrain feel when driving off-road.
Furthermore, you get off-road capabilities without sacrificing your on-road comfort and performance.
Let's get to know more about the new X-AT.
In this Yokohama Geolandar X-AT review, you will get familiar with the technology used in making it, how it will benefit the driver as well as the Yokohama warranty for this tire consumer and its performance.
---
Yokohama Geolandar X-AT
The X-AT Is For What Driver
This tire is for drivers of pickup trucks, full-size SUVs, and jeeps that want aggressive off-road abilities and tires that can take on rugged terrains effectively while still giving good highway performance and on-road capabilities with overall durability.
Season
It is an all-terrain tire that can be used all year round on different driving surfaces.
You get a good performance on the wet and dry surfaces as much as you get in the mud or in snow.
Technology
X-AT compound is molded into an aggressive symmetric pattern
Zigzag grooves for disrupting airflow between tread blocks for better sound quality
Five pitch block variations to improve noise quality by reducing it.
Sipes and narrow grooves combination in its grooves for improved traction on wet surfaces or slush and in the snow.
Aggressive shoulder with varying length of blocks for good mud traction and to serve as snow ejector
Angular offset center blocks to weather through the toughest terrain.
Sidewall protector guard against puncture and impact on rough terrain
The X-At is built with the Yokohama Geo-Shield construction
Its HD-2 off-road compound uses a triple polymer blend for resistance against puncture and cut which enhances its tread life
Three polyester body plies to create a contact path that gives good off-road traction, longer tread life, and durability.
Two high-strength steel belts are reinforced by a full-width nylon cap to support the tread and for tire durability.
Warranty
Yokohama equips this tire with 5 Years or 45,000 miles tread life warranty.
Also, there is a uniformity warranty for the first 2/32 inches of wear.
Workmanship and materials warranty is available for 5 Years with free replacement for the first year or first 2/32 inch of wear then it is prorated till the remaining 2/32-inch depth.
There is 30 days test trial for consumers, so you can get it for 30 days period and have it replaced if it does not suit you.
Performance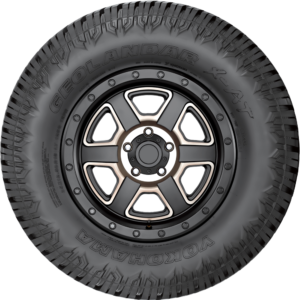 The Geolandar X-AT is designed to blend off-road capabilities with on-road comfortability.
The off-road aggressiveness you get with this tire is undeniable.
There is stone ejector technology in place to save you from any puncture, cut, or chip thus aiding longer tread life.
Its zigzag grooves also improve the noise quality, by reducing the road noise you get.
With its customized sidewall that blends with your vehicle while remaining stylish, consumers are able to pick which side they prefer to display on their wheels.
The Geolandar X-AT cuts through the sand and plows the mud just as well.
This tire exhibits good on-road performance as well, with less noise and a lot of comfortability.
It performs well when on a wet surface or in the rain without the fear of hydroplaning.
Features
Different designs on each side, therefore you have options to show the sidewall you prefer when mounting the tire.
Customized sidewall with Mesa on one side and summit on the other sidewall.
Off-road traction
Highway stability
Long tread life
Off-road durability
45,000 miles limited tread wear
Aggressive tread pattern
Tire size
15"
31X10.5R15LT 109Q
16"
LT265/75R16 123/120Q
17"
LT265/70R17 121/118Q, LT285/70R17 121/118Q, LT295/70R17 121/118Q, 35X12.5R17LT 121Q, 37X12.5R17LT 124Q, 37X13.5R17LT 121Q
18"
LT275/70R18 125/122Q, LT285/65R18 125/122Q, LT295/70R18 129/126Q, 35X12.5R18LT 128Q
20"
LT275/65R20 126/123Q, LT295/65R20 129/126Q, LT305/55R20 121/118Q, 33X12.5R20LT 114Q, 35X12.5R20LT 121Q, 35X13.5R20LT 121Q, 37X12.5R20LT 126Q, 37X13.5R20 LT127Q
Pros
Great on-road traction
Great traction off-road and even in the mud
Less road noise
All-terrain traction on all driving surface

Alfred's Take
After you have read all the information about the Geolandar X-AT, you have probably understood that the tire is built to conquer off-road terrain while at the same time, not affecting on-road comfort.
It boasts a 45,000-Mile Limited Treadwear Warranty, a quieter ride, and a dual sidewall design not available with any other model.
The Geolandar X-AT really provides a driver with confidence.
---
Conclusion
This is one of the best off-road tires coming from Yokohama in a long time now.
For years they have been into the Advan and Avin series.
This tire is great for the driver that wants an all-terrain feel, aggressive off-road ability with on-road comfort.
After the knowledge we got when gathering this Yokohama Geolandar X-AT reviews from a different consumer perspective, we say this tire will suit you as long as you desire these qualities.
So, what you should do is to take advantage of the 30-day trial and pair it with your pickup truck or SUV.
If you have a question, review or comment drop it in the comment box below.
We will be glad to hear from you or be of help.
---