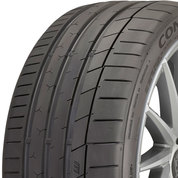 Continental delivers another quality tire with the extreme contact series. This tire delivers great all-season traction, we bring you a closer look in this continental extremecontact reviews of the DWS all-season tire from its technology to its performance.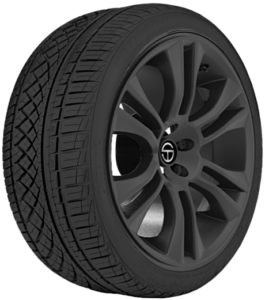 The continental ExtremeContact DWS is an ultra-high performance-built tire, which is designed to deliver great performance in all season. Comes with a code DWS written on the sidewall of the tire that signifies (Dry/Wet/Snow) which implies great performance on dry driving condition, on wet driving condition and likewise on snow.
Indeed, the extreme contact blew our expectation in its performance, it is one of the rare all-season tires that delivers great performance in all season even on snow. The continental extreme contact comes with a UTQG rating of 560AAA.
The tires utilize dynamic temperature distribution that reduces distortion for enhanced energy delivery, lower rolling resistance, and improved tread-life. Ride quality of this tire is smooth and gentle with a touch of softness.
The fact that the sidewalls are rather soft and flexible is rather evident, its overall handling is great and above average for an all-season tire.
Technology
Asymmetric Tread Design
The DWS is built with a silica-based high-grip compound molded into an asymmetrical tread design. The tread features curved grooves on the inboard side which aids evacuation of water efficiently.
Crisscross Grooves
This is available at the center of the tread to provide biting edges during snow and good ice grip.
Stable Shoulder Blocks and a circumferential rib
You find this on the outboard side of the tire and it aids better steering handling and stability.
Tuned Performance Indicators
The DWS features Tuned Performance Indicators, which is the DWS letters molded into the rib designed to show drivers when wear is affecting the capabilities of the tire.
A visible "DWS" indicates the tire has sufficient tread dry, wet and snow conditions. Once the "S" wears away, the tire only has sufficient tread depth for dry and wet conditions. When only the "D" remains, the tire has tread depth only for dry conditions.
Internal Structure
The DWS features twin steel belts and joint less nylon cap plies spirally wound with nylon thread to keep the structure stable at high speeds.
All new Sport Plus Technology
Provides precise handling, good grip on wet, slippery roads and excellent tread life.
Quick View Indicators
Visually inform drivers to the level tires are performing in dry, wet and snow and the need to check vehicle's alignment.
Traction Grooves
Improves snow performance through increased pattern edges.
X-Sipe technology
Improves braking, cornering and acceleration in wet, snow and ice.

Performance
On dry road conditions
They have relatively soft sidewalls which contributes in better steering abilities and cornering stability. Traction on dry road is excellent and you can make sharp bends smoothly with little effort and no screeching sound.
On wet driving conditions
These tires are great on wet driving surface. It does not hydroplane and driving on wet is almost the same as driving on dry.
The wet traction and hydroplaning resistance of these tires are simply unmatched as they push water out relentlessly and the special rubber compound that apparently resists water does deliver quite well.
On Snow
It has a unique asymmetrical tread pattern for different purposes, such as cornering, snow traction and water evacuation. These tires are great in snow compared to most all-season tires, that is not to say they beat winter tires.
However, they are great on light/medium snow, you can stop, corner, and drive with confidence and accelerate probably with a little wheel spin with these tires in snow.
Its traction, stopping and turning performance of these tires in snow will surprise you. This is a big deal of a tire with its proven all-season performance.
Features
Ultra-High-Performance tire in all-weather conditions
Excellent wet grip
Resistance to hydroplaning
Silica-based, high-grip tread compound
Asymmetric tread design
Internal twin steel belts
DWS which indicates enough tread during dry season, wet season and in snow.
Warranty
There is a 50,000mile tread warranty from continental, the ExtremeContact DWS is available in 87 sizes ranging from 16- to 22 inches and with speed ratings of W and Y.
+Pros
Outstanding traction on dry, wet and snow driving roads
Responsive and precise steering
Great cornering ability and stability
Smooth ride even at high speeds
-Cons
Not on its best performance on heavy snow

Why we recommend it
Continental ExtremeContact DWS delivers great quality, grips well while driving, smooth to drive and this tire is one of the best all-season tires.
The sidewalls are soft but it doesn't make the ride float, it's as composed as an enthusiast would love it, and it gives comfortable ride.
Additionally, these are extremely quiet tires, it has minimal tire roar which makes your drive more enjoyable.
You will find the steering to be crisp and very responsive whether you drive under normal conditions or push this tire to the limits.
Continental has added a unique sport sidewall which helps in better steering response regardless of road conditions. You will find these tires up to task and it will be a great choice to buy, we hope you find our continental extreme contact reviews of the DWS helpful.
Leave us a comment below if you have any question we will be glad to help, also tell us which is your favorite and best choice from continental tires.
Available Sizes
Size 1
195/50ZR16, 205/55ZR16, 205/45ZR16, 205/50ZR17, 215/55ZR16, 215/50ZR17, 215/55ZR17, 215/45ZR17, 215/45ZR18, 215/40ZR18, 225/50ZR16, 225/55ZR16, 225/45ZR17, 225/50ZR17, 225/55ZR17, 225/40ZR18, 225/45ZR18, 225/50ZR18, 225/40ZR19, 235/45ZR17
Size 2
235/55ZR17, 235/50ZR17, 235/40ZR18, 235/45ZR18, 235/50ZR18, 235/55ZR18, 235/35ZR19, 245/40ZR17, 245/45ZR17, 245/50ZR17, 245/25ZR18, 245/40ZR18, 245/45ZR18, 245/40ZR19, 245/50ZR19, 245/35ZR19, 245/45ZR19, 245/45ZR20, 245/35ZR20, 245/40ZR20
Size 3
250/50ZR16, 255/40ZR17, 255/45ZR17, 255/35ZR18, 255/40ZR18, 255/45ZR18, 255/55ZR18, 255/35ZR19, 255/40ZR19, 255/50ZR19, 255/45ZR20, 255/35ZR20, 255/50ZR20, 255/30ZR22, 265/35ZR18, 265/40ZR18, 265/30ZR19, 265/35ZR19, 265/35ZR20, 265/45ZR20
Size 4
265/30ZR22, 265/40ZR22, 265/35ZR22, 275/35ZR18, 275/40ZR18, 275/40ZR19, 275/45ZR19, 275/30ZR19, 275/35ZR19, 275/40ZR20, 275/30ZR20, 275/35ZR20, 275/45ZR20, 285/35ZR18, 285/35ZR19, 285/30ZR19, 285/30ZR20, 285/30ZR22, 285/35ZR22, 295/35ZR18
Size 5
295/40ZR20, 295/35ZR21, 295/40ZR21, 295/25ZR22, 315/35ZR20