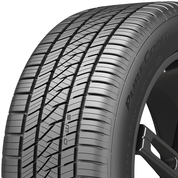 Continental Purecontact LS is a grand touring all season tire, a great improvement from its predecessor -Purecontact.
This tire is built for coupe, sedan, small crossover and minivans.
It is a tire built for lovers of a sporty feel when behind the wheels.
As stated by Continental "A luxury sport performance tire that delivers a quiet, comfortable ride blended with long wear, best-in-class wet braking, and all-season performance"
In this Continental Purecontact LS review, we bring you quality information about this tire from its performance to its technology and the features that made a difference.
---
Continental Purecontact LS
Continental Purecontact LS Improvement
As stated earlier, this tire was designed and produced after the previous version – Continental Purecontact.
The Purecontact LS was however built with more advantages, such as less road-noise, among other things.
It has a whopping 50% less road noise, which is a big improvement, as we all hate when our tires make so much noise that the music at its highest blasting volume cannot even drown.
Not to talk of days we will just do better with a lot of peace while driving or days we will rather hear ourselves think.
Yea, so we can say this was a thoughtful upgrade.
And that is not all.
It has improved grip especially on wet driving surfaces, and better tread life.
So, you can look forward to a luxury grand touring driving experience with a lot of comforts and good traction in wet, dry driving surfaces and even on light snow with this tire.
Features
Features better fuel efficiency compared to the former Purecontact.
A big difference in the reduction of road noise which gives a better driving experience.
Has the alignment verification system that notifies you when it is time for an alignment.
A 70,000-mile warranty.
Great traction on a dry and wet surface.
Features a Quickview Indicator that checks it for optimum performance on dry wet and snow driving conditions.
Comfort ride technology contributes to comfort by absorbing vibration caused by various road surfaces.
EcoPlus technology helps improve its fuel efficiency and aids better treadwear.
The internal construction of the PureContact LS features a single ply, polyester casing.
Has construction enhancements including lower sidewall height sizes and up to 30% improvement in impact resistance which helps it perform better handling potholes and similar road hazards
Warranty
Comes with a treadwear warranty of 70,000 miles
Given 60 days for customer trial satisfaction for all 4 tires which is great as you can return it if it is not what works for your driving condition
Also, given flat tire roadside assistance which covers 3 years (terms and conditions apply).
Total Confidence Plan from continental for 72 months if eligible.
Technology
Built with the asymmetric tread pattern with stable shoulder tread blocks that aids lateral grip with good handling especially when on high speed.
Wide central rib for confident straight-line tracking.
Its +Silane additives enhance traction on the slippery driving surface.
Features sweeping grooves and deep circumferential channels which help avoid hydroplaning.
The temperature-activated functional polymer in its tread compound helps the compounds bond better.
Comfort Ride Technology that is between the tread and casing is there to reduce the casing vibration when driving.
The siped shoulders and intermediate tread blocks give biting edges that provide good grip on light snow and its traction grooves absorb snow in the tread for better snow to snow traction.
The mid to high apex function provides responsive handling and great performance when braking, accelerating and turning with sufficient ride comfort.
Its dual steel belts are reinforced by two polyamide overlays which enhance its durability and high-speed performance and uniformity.
Performance
Continental tire company is well recognized in the tire industry and has a reputation for producing quality tires.
Plus, their all-season tires do deliver excellent and reliable performance, with driver comfort, strong attributes with the latest technology that enhances their performance.
This Purecontact LS tire is an all-season tire with a great tread pattern for sporty car owners as it gives a sporty feel while driving.
With this tire, you can expect less noise as noise reduction has been put in place and it is an improved model.
The tread pattern gives great performance on the wet and dry driving surfaces with great traction.
You can expect a good performance from this tire on light snow but you cannot expect much on extreme snow, ice, or extreme winter condition.
Tire Size
The Continental Purecontact LS is available in 29 different sizes and fits a wider range of vehicles.
The smallest size is 195/55-R16 and sizes up to 245/45R20 with some weighing 16 lbs for lightest weight up to 28 lbs for the heaviest weight that is available.
16"
195/55R16 87V SL BSW, 205/55R16 91V SL BSW, 205/60R16 92V SL BSW, 215/60R16 95V SL BSW
17"
205/50R17 93V XL BSW, 215/50R17 95V XL BSW, 215/55R17 94V SL BSW, 225/45R17 91H SL BSW, 225/45R17 91V SL BSW, 225/50R17 98V XL BSW, 225/55R17 97V SL BSW, 235/45R17 94H SL BSW, 235/45R17 97V XL BSW, 235/50R17 96V SL BSW, 245/45R17 99V XL BSW, 245/50R17 99V SL BSW
18"
225/40R18 92V XL BSW, 225/45R18 91V SL BSW, 235/45R18 94V SL BSW, 235/50R18 97V SL BSW, 235/55R18 100V SL BSW, 245/40R18 97V XL BSW, 245/45R18 100V XL BSW, 245/50R18 100V SL BSW
19"
235/40R19 96V XL BSW, 245/40R19 98V XL BSW, 245/45R19 102V XL BSW, 255/45R19 100V SL BSW
20"
245/45R20 99V SL BSW
Pros
Less road noise
Comfortable drive
Good warranty
Great dry and wet traction

Alfred's Take
This tire is built specifically for drivers of coupes, wagons, small SUVs, sedans, minivans, and crossover that wants comfort with less road noise, all-season traction, and sporty performance when driving.
We can say that this is an all-season tire that gives good traction on wet and dry driving surfaces and even on light snow.
But you need to have in mind that you cannot use this tire in extreme winter driving conditions.
On ice or heavy snow, you will be better off with excellent winter tires.
---
Recommendation
This tire has proven itself to be a lovely all-season tire along with the fact that it has a lot of improvement in comparison to its predecessor.
Our Continental Purecontact LS review is a compilation of results from different drivers' reports and basic reviews from their different driving experiences of this tire.
So, it can be concluded that this tire is a good choice to buy and fit on your lovely car.
If you have reviews to contribute, questions or comments, please leave them in the comment section below.
We will be happy to hear from you.
---