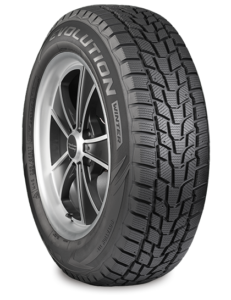 Cooper's new evolution line has 3 products which are Evolution Tour an all-season passenger car tire, Evolution H/T an all season highway tire and the evolution winter. All this three tires are engineered to deliver an excellent performance to consumers in terms of handling, durability and overall performance while they are all affordable when comparing to its counterpart in the industry that offers the same performance.
The Evolution winter is cooper's studdable winter/snow tire designed for different road conditions when driving through winter conditions. Designed for coupes, sedans crossover and SUV and branded with the industries severe snow service rating symbol which is the three peak mountain snowflake symbol (3PMSF).
Which shows its performance is tested and trusted on winter and snow covered surface, it is available in 48 popular sizes. Let's get to know more of this winter tire in this cooper evolution winter tire reviews.
For what driver
The evolution winter is designed for drivers of coupes, SUVs, crossovers and sedans that desire an excellent winter traction on dry, wet, snow covered surface. With an excellent performance from the lightest to the harshest winter conditions while you feel safe.
Features
Free 45-Day Test Drive
Severe Weather Rated
Branded with the three peak mountain snowflake symbol 3PMSF
Plows through snow
Studdable for toughest winter surface
Warranty
The evolution winter has no treadlife warranty from Cooper but there is uniformity warranty for the first 2/32 inch of wear. With unlimited availability of workmanship and materials warranty for unlimited time and free replacement for the first 2/32 inch of wear then prorated until the last 2/32 inch depth remaining. Although no treadlife warranty but Cooper gives consumers of evolution winter 45-day road test warranty.
Technology
Evolution winter tire tread compound is molded into directional tread pattern which aids braking and acceleration on the harshest surface
Features strong outboard shoulders which provides lateral grip
Multi-angle siping with multiple biting edges for enhanced traction on wet, snowy and icy surface.
Wide rigid tread blocks in the tire's center rib for precise steering and enhance stability on dry surface.
Its open shoulder notches deep tread and wide circumferential groove helps reduce risk of hydroplaning on water, slush and wet surface generally.
The evolution winter tire internal construction has one-ply polyester casing with two-ply sidewall which aids durability.
And its two wide steels belt is reinforced by nylon for better handling and speed uniformity
Performance
The Evolution Winter is designed with tread optimized to plow through the deepest snow. Also, it is engineered with cooper's snow groove technology which bites and traps snow in its tread for snow to snow traction. It excels in diverse winter condition and it has earned Cooper weather master certification.
Cooper has replaced the weather master S/T2 with the evolution winter tire. This tire has superior stopping ability, excellent wet traction and good grip on dry surface.
The evolution winter can also be studded for enhanced grip and better traction, it is sure to deliver an outstanding performance when paired with your car or SUV as it delivers excellent winter traction and performance.
Because of how much it excels in this surface, it has not only joined Cooper's best winter performance tire but it has also earned the industry three peak mountain snowflake symbol. Cooper recommends mounting this tire in sets of four due to its traction abilities to deliver its best traction ability and best performance.
Pros
Studdable
Excellent winter performance
Good handling on wet and dry surface
Quiet
Cons
Tire sizes
14''
175/70R14 84T, 185/65R14 86T, 195/70R14 91T, 175/65R14 82T
15''
175/65R15 84T, 185/60R15 88T, 185/65R15 88T, 195/60R15 88T, 205/60R15 91T, 205/65R15 94T, 235/75R15 109T, 205/70R15 96T, 215/70R15 98T, 195/65R15 95T, 205/60R15 91T, 215/60R15 94T
16''
205/60R16 92T, 205/65R16 95T, 215/70R16 100T, 225/65R16 100T, 225/70R16 103T, 235/70R16 106T, 225/75R16 104T, 215/65R16 98T, 235/60R16 100T, 205/55R16 94H, 215/55R16 97T, 205/50R16 87T,
17''
215/65R17 99T, 225/65R17 102T, 235/65R17 104T, 215/60R17 96T, 225/60R17 99T, 235/60R17 102T, 215/55R17 94H, 225/55R17 97T, 235/55R17 99H, 205/50R17 93H, 215/50R17 95H, 225/50R17 94H, 215/45R17 91H, 225/45R17 94T, 235/45R17 94H
18''
235/65R18 106T, 255/65R18 111T, 265/65R18 114T, 225/60R18 100H, 235/60R18 103T, 245/60R18 105T, 265/60R18 110T, 215/55R18 95T, 225/55R18 98T, 235/55R18 100H, 255/55R18 109T, 225/50R18 95T, 235/50R18 97T, 225/45R18 95H, 245/45R18 100T
19''
235/55R19 105T, 245/55R19 103T, 255/50R19 107H
20''
255/55R20 110T, 245/50R20 102T, 255/50R20 109H, 265/50R20 107H
Conclusion
The evolution has been tested and trusted on many grounds and has tons of positive review not just from us but mostly from its consumers, this tire is a great choice to pick to journey with you through the toughest winter surface.
And you could also take advantage of the 40-day trial warranty, we hope you found our cooper evolution winter tire reviews helpful. If you have a comment, question or review of this tire leave it in the box below, we will be glad to hear from you.