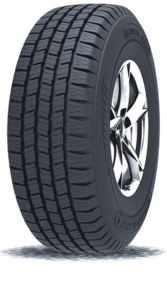 Westlake is a tire brand name in China under Hangzhou Zhongce Rubber Co. Ltd.
Hangzhou Zhongce Rubber Co. Ltd is China's largest manufacturer of automotive tires.
Formerly called Hangzhou Rubber Factory, it was founded in the year 1958 and it manufactures a variety of tires for cars, trucks, bicycles, scooters, motorcycles, ATVs, tractors, etc.
All of these tires are manufactured under different brands which include Chaoyang, Goodride, and Westlake.
By 2011, this company was the tenth largest tire maker in the world with $4.26 billion worth of sales and by 2015, the launch of its new Westlake retail network in Spain and Portugal was announced.
---
Westlake SL369
SL369 A/T Tire
The SL369 is Westlake all-terrain tires designed for SUVs and light trucks.
This tire has been around for a while and has many consumers giving it excellent ratings on its performance.
The tread pattern of this tire is designed to give all-weather traction, engineered with helpful technologies that deliver good all-terrain performance.
The SL369 is great both on-road and off-road and it features a variable tread block that eliminates snow from its tread groove, which aids comfortable snow driving.
It features different shaped tread blocks and an open shoulder design which aids firm grip on dry, wet, and winter surfaces, and the tread is built to resist hydroplaning by evacuating water and slush when driving on wet surfaces.
Its variable tread blocks help to evacuate mud and eject rocks that are stuck between its grooves, so by preventing stone retention you will not have to worry about sharp objects harming your tire casing.
This all-terrain tire offers less road noise and so the driver gets road comfort when driving on-road.
Its variable tread block shapes create a sound frequency that negates the road and treads noise when driving.
This lowers the level of noise in the vehicle cabin and hence delivers less road noise and a comfortable ride.
These are some cars SL369 can be fitted on:
Chevrolet Tahoe, Silverado, K-Blazer, Trailblazer, Suburban, Dodge Durango, Dakota, Ram, Ford F-Series, Ranger, GMC Sierra, Jeep Wrangler, Grand Cherokee, Nissan Frontier, Toyota 4-Runner, Tacoma, Highlander
Tire Sizes
15″
235/75R15 109S BSW, LT235/75R15 104/101Q BSW, 31X10.50R15LT 109Q BSW
16″
225/75R16 108S BSW, 235/75R16 112S BSW, 245/75R16 111S BSW, 265/75R16 116S BSW, 215/70R16 100S BSW, 225/70R16 103S BSW, 245/70R16 111S BSW, 265/70R16 112S BSW, 275/70R16 114S BSW, LT215/85R16 115/112Q BSW, LT235/85R16 120/116Q BSW, LT225/75R16 115/112Q BSW, LT245/75R16 120/116Q BSW, LT265/75R16 123/120Q BSW, LT285/75R16 122/119Q BSW, LT245/70R16 118/115Q BSW, LT265/70R16 121/118Q BSW
17″
235/65R17 104S BSW, 245/65R17 107S BSW, 265/65R17 112S BSW, LT235/80R17 120/117Q BSW, LT245/75R17 121/118Q BSW, LT245/70R17 119/116Q BSW, LT265/70R17 121/118Q BSW, LT285/70R17 121/118Q BSW, LT275/65R18 123/120Q BSW
Pros
Both on and off-road traction
Comfortable ride
Great tread life
Cons
Lacks better off-road performance in deeper mud
In need of additional sizes

Alfred's Take
As stated earlier, Hangzhou Zhongce Rubber Company manufactures Westlake tires at their state-of-the-art manufacturing plant in China.
Then it is branded as Westlake and sold across the United States and Canada.
Due to the fact that its large tread block firmly grips the road surface, the tire, in turn, delivers steering responsiveness and puts the driver in control of the vehicle.
---
SL309 H/T
SL309 H/T Tire
As stated earlier, this Westlake is not an all-terrain tire, but then if your light truck travels mostly on-road, the SL309 H/T tire will be a good choice to pick as well.
The Westlake Radial SL309 is a highway terrain all-season tire designed for light trucks.
With the SL309, you get all-weather traction, as it is engineered to deliver excellent performance in most weather driving conditions.
Its tread design features multi-sipe detail that aids good grip when driving on wet, dry, and snow surface.
The tire gives an excellent hydroplaning resistance when driving through snow and slush.
As a highway terrain tire, this tire is best suitable for on-road driving, highways, and concrete roads.
That is when you get the best out of it and you can be assured of its durability when used accordingly.
Its internal structure features two high tensile steel belts and a double polyester cord that maintains optimal shape when driving.
Since this tire is constructed not to deform when driving, this enhances its ability to carry the load and also perform well when driving on light off-road terrain.
Along with its strong sidewall which is built not to deform, there is its reinforced sidewall that resists damage, puncture, tear, chip and enhance its off-road capability.
The tread pattern features variable pitch sequences that cause noise reduction and lessen the vibration in the vehicle cabin, thereby ensuring a quiet and comfortable ride.
Tire Sizes
15″
LT215/75R15 100/97Q BSW, LT235/75R15 104/101Q BSW, 31X10.50R15LT 109Q BSW
16″
185/75R16C 104/102R BSW, LT215/85R16 115/112Q BSW, LT225/75R16 115/112Q BSW, LT235/85R16 120/116Q BSW, LT245/75R16 120/116Q BSW, LT265/75R16 123/120Q BSW, LT285/75R16 122/119Q BSW
17″
LT235/80R17 120/117Q BSW, LT245/75R17 121/118Q BSW, LT265/70R17 121/118Q BSW, LT285/70R17 121/118Q BSW
18″
LT275/65R18 123/120Q BSW
Pros
Reliable dry/wet traction
Great tread life
Lower price
Ideal for budget-minded drivers
Cons
Not excellent deep snow and ice traction
Road noise as the tire wears down

Alfred's Take
Are Westlake Tires Good?
Westlake tires are built with quality raw materials, good technology, and a unique tread layout.
Especially for this all-terrain tire, attention was given to critical areas like its handling, features, and design.
As we all know, handling is a crucial factor when choosing a tire to mount on our vehicle, and Westlake gives this criterion their attention.
Westlake incorporates features like cross sipes that aids expansion in the surface area that is to be in contact with the road and this enhances traction greatly.
Its shoulder blocks are well-placed at the right angles to ensure stability during cornering.
All this boost of confidence is essential as we all want tires that augment our vehicle grip and deliver amazing traction when driving.
When it comes to tires delivering well on a wet surface, Westlake ensures its tires have enough biting edges with serrated patterns which aid good grip while its circumferential groove guarantees enhanced wet traction on water, rain, or slush.
This tire does provide comfort, as well as quality, for its consumers as it ensures stability and durability.
Despite providing all this value to its consumers, Westlake offers its tire at affordable and competitive prices.
So for drivers looking for standard and quality tires on a tight budget then this brand will be a good choice to pick instead of purchasing substandard tires that the treads are almost worn out.
It does cost significantly less in comparison with other tires but yet you get to enjoy reasonably durable and fairly quality tires.
Speaking of its all-terrain tire, there is only one all-terrain tire Westlake produced and still in the market for a long time now, which is the Westlake Radial SL369 A/T tire.
However, if your off-roading is limited, then you can still go for the SL309 Highway terrain all-season tire.
---
Conclusion
We hope you find our article on Westlake A/T tires helpful.
If you have a comment, leave it in the box below, we will be glad to hear from you.
---