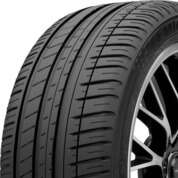 Over the years, Michelin tire company is widely recognized all over the world for their A game product when it comes to their tires. They are one of the best in the tire industry and they always live up to that expectation.
There is no doubt about the fact that Michelin has built a name for herself and will never relent in making grounds when it comes to production of vehicle tires.
Coming through with another massive production is the Michelin Pilot Sport series. In this article we bring you a closer look on the pilot sport 3 in our Michelin pilot sport 3 review.
This product is otherwise called Michelin PS3, it has great features and comes in different sizes and you sure can get the one that is best suitable for your car.
To have the pilot sport 3 working on your car will be thrilling if you fancy high performance car tires.
Every car is worth a good tire and the Pilot Sport 3 is not an exception of these tires. You just have to put into consideration, the condition of the road you travel, as every road condition is not the same and also, the weather of such geographical location. To have the pilot sport 3 working on your car will be thrilling if you fancy high performance car tires.
Here are some tips that could be helpful to you;
Vehicle suitability
Michelin Pilot Sport 3 is best suitable for sport oriented vehicle and high-power saloons, so if you drive a sport car or want tires that are manufactured for sport-oriented performance then the Michelin pilot sport 3 is a good choice to buy.
Performance
The pilot sport 3 from the Michelin company is an Ultra High- performance summer tire that is specifically built for passenger performance cars.
Built with great features such as ability of road holding in curves and shorter braking distance on wet roads, very precise steering which earns you a more driving pleasure, an outstanding energy efficiency and good tread life.
Though, the tire is faced with a poor lateral grip on wet surfaces, it has high resistance to skimming and low road noise.
The tire gives you an assured security while driving on dry and wet roads. Also, in awareness to the fact that, the roads we ride on are not the same and tires are the only thing in contact with the roads.
One might tend to have some problems that differs to others in terms of the tire performances.
Season
Michelin Pilot Sport 3 is an Ultra High-performance summer tire that is built specifically for summer season. Although, they give a less performance from what is expected outside summer.
Most times on snowy season especially, as they may struggle for excellent gripping when they are cold. But this tire is simply the best in terms of dry and wet conditions.
Usage Considerations
In case, you are in search of Ultra High-performance tires with good traction on wet and dry roads, very nice handling and great cornering, the Michelin Pilot Sport 3 summer tires is just the best.
Manufactured for passengers and sport cars, the on-road tire is very great in handling on dry roads and also gives good grip on wet roads.
Warranty
There is a standard warranty from Michelin on every tire which covers defects in design, materials and workmanship which mostly covers 6 years from the day of purchase.
But the policies in the warranty differs with respect to countries. i.e. the warranty policy of Australia is quite different to that of Malaysia.
Load Capacity
Every quality car with great performance deserves tires with awesome performance also at every stage, from good traction, cornering, braking and to fuel efficiency, to compliments its work.
But what about the Load capacity? That should also be put in check to avoid the risks that lies ahead.
+ PROS
Excellent handling performance
Short braking distance
Better grip
Outstanding energy and fuel efficiency
-CONS
Not good in snowy condition
A bit noisy on low speed
Recommendation
With no doubt, the Pilot Sport 3 is one of the best tire in the market.
This tire is designed with very a good curvy shoulder grooves which makes cornering great, balance tread life, fuel efficiency, precise steering and a nice road gripping on both wet and dry conditions.
With a superb handling, the pattern design also evacuate water while it provides a good traction and shorter braking distance on wet roads.
Though it is a bit pricey, but it's worth the Price. This nice baby is specifically made for high performance sport and Passenger cars.
Speaking of handling, you definitely will get a good handling on both wet and dry driving conditions.
The shallow tread pattern unique and it gives you a good traction with good grip and low noise level, you can't beat the imagination of a very safe and comfortable ride even at thousands of km without any stress with the PS3.
You certainly will make a good choice of purchase with this tire with the comfort and pleasure it gives and we hope you found our michelin pilot sport 3 review helpful.